Company specific training / Consulting
Effective personnel training in accordance with your company
Mr. Hitoshi Arimoto, GROWING ACADEMY President, experienced the president of employees education organization of Japan McDonald's hamburger University and FAST RETAILING UNIQLO university, proposes the proper personnel strategy and educational training for your company.
Based on GROWING ACADEMY's original personnel training system which specialized in the service industry, we assist personnel strategy and personnel training which were united with each company.
Education training consulting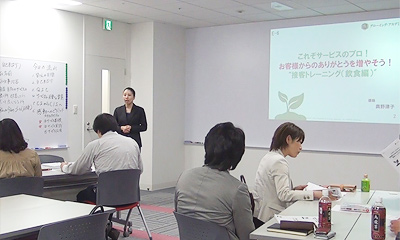 We have more than 100 lessons and services by the teachers that have served as educational managers in service industry for long. We bring great effect on HR development with instruction methods and contents depending on the situation and the training matched to demand.
Example of introducing training program
Brush up training for part time workers and young employees to be ready
Store managers & Leaders' training
Service / Performance skill up training
Communication skill up training
Managers / Owners' training
Trainer support program
Corporate University establishment support
Educational tool support
We suggest a training program in conformity to each company.
HR strategic consulting
We support issues, such as construction and operation of proper personnel system in response to development of the company.
Shinjuku0120-948-078
Osaka0120-982-919
Fukuoka0120-992-787
Nagoya0120-919-601
Sapporo0120-965-115
Monday-Saturday 9:00-18:00 (※ Except for First and fourth Saturdays)
"GROWING ACADEMY"
The fixed charge training system of employees or part-time workers that specializes in service industry

Hospitality & Growing Japan Co., Ltd
Hospitality & Growing Japan Co., Ltd. is training company which professionals with experienced HR development teach towards service industry in general. Now we develop 6 domestic sites and 1 overseas site. We introduce more than 2,800 companies and more than 300,000 people per month in just 7 years since we established. Especially, education for retention rate is up has reputation and we are covered by the media such as World Business Satellite. Now it is one of the most attractive teaching companies now.